Group News
Book Group 4 have a few spaces for mew members. They are a friendly bunch who meet every 2nd Thursday at 10.00am. For more information contact Veronica Rhyder: books4@purbecku3a.org.uk
The Art Appreciation Group are looking for new members. They meet in Swanage on the 1st and 3rd Tuesdays of the month (except August). They are a friendly group who watch a variety of art programmes and then have a discussion afterwards. They also go on visits to galleries." If you don't know your Baroque from Rococo or Impressionists from Surrealists, perhaps you would like to go along and meet them. You can contact the Group Leader Sue Upton.
contact: art@purbecku3a.org.uk
Computer/ipad/iphone Group This group has merged to become the Gadget Group where they will look at all devices including mobile phones, i pads, laptops, desktops, digital TV's and Alexa.. They meet at Harman's Cross and Zoom on the 2nd Friday of the month from 9.00am to 11.00am. This should be an interesting mix and if you would like more information you can contact the Group Leader Paul Lurie.
contact: gadgets@purbecku3a.org.uk
New Bridge for Beginners Group This is an opportunity for beginners to learn this fascinating game that can be played at many levels. You will learn in a sociable and fun setting so if interested, you can contact the Group Leader Virginia Leach contact: begbridge@purbecku3a.org.uk
The Fiction Writing Group would welcome one or two more members.
We meet on alternate Monday afternoons in the small hall of the Scout & Guide HQ in Wareham, between 2 and 3.30pm. to discuss and work on all aspects of fiction writing, from developing characters, dialogue and plot to keep readers' interest all the way through. After the August break, we'll be meeting again on September 5th.
contact: francesfictionwriting@purbecku3a.org.uk
The Walking Group meets every 2nd Monday at 10.00 at various locations for circular walks lasting about two hours. Non-members are welcome but insurance covers the first visit only.
The start points will have parking available, and are never more than a short drive from the main towns in the Isle of Purbeck. Please try to car share.
In some cases, the start and finish point will be where those minded to do so can stop to socialise over refreshments or lunch.
Suitable footwear is essential, and waterproof clothing and walking poles or sticks are recommended. There may be stiles to negotiate. Please bring a drink.
For more information, please contact: walking@purbecku3a.org.uk
No dogs, please. The "K9" Group caters for those who want to walk with their dogs, please contact K9s@purbecku3a.org.uk
Harmans Cross Flower Show is Back
There are many talented u3a gardeners out there who may be interested to know that this coming August Bank Holiday sees the welcome return of Harmans Cross Flower & Veg & Show. Prior to Covid striking, as with everything else, the show had been running for 50 years. There are categories for vegetables, flowers,,pot plants, fruit, floral art, home produce, craft work and a special childresn's section. If you would like more details of how to enter or just visit and see the wonderful array then click here: HarmansXflowershow2022
Great start for Boule Group
The Boule group has restarted and has been good fun with lots of people attending and enjoying refreshments from the Community Club after.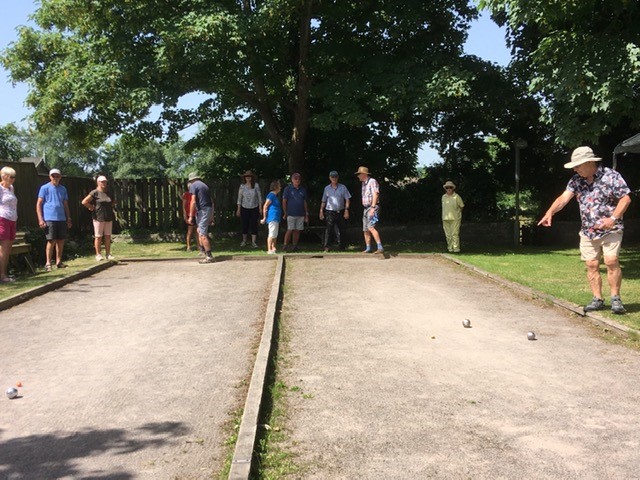 Purbeck u3a Annual General Meeting 2022
The AGM was very well attended, both in person and via Zoom.
Members were entertained by a lively group of members from the Ukulele Group after which they were served a light buffet lunch.
£420 was raised from the sale of plants by the Gardening Group and the raffle for the Lockdown Quilt kindly made by the Patchwork and Quilting Group. This was won by the new Chair of the committee who was very happy.. The proceeds from both of these is going to the Swanage and Wareham foodbanks.
A big thank you goes to the new volunteers who opted to join the committee.
****** CLICK ON 'gallery' above FOR PHOTOS ******
The Dorset Arts & Crafts Association Showcase 2022 Purbeck School Wareham
Friday 5th - Tuesday 9th August 10am - 5pm, Tues 10am - 4pm
Showcase 2022 will include
sales gallery of work by members of DACA
open art, craft & photography competitions
our popular children's workshops
craft stalls featuring work by Dorset artists and craft workers
Our guest exhibitions will feature the work of three local groups
Wareham Camera Club
"From Fleece to Felt" by 5 Felt Makers
75th Anniversary of Dorset Guild of Weavers, Spinners & Dyers
Get Involved
Our website is currently being updated to include everything you need to know about taking part and visiting Showcase 2022.
Our art, craft and photography competitions are open to everyone living in Dorset, whether or not you are a member a DACA. If you live outside the county, you must be a member of DACA to enter work into the competitions.
Entry forms for submitting work are being finalised and will be available on the Showcase 2022 page of our website in early March.

Spaces for the craft stalls are almost fully booked. If you are interested in taking a stall, visit the Apply for a Stall page of our website to find out more, and submit your application as soon as possible.

To find out more about membership, including reduced entry fees for the competitions, and an exclusive challenge for members, visit the membership page of our website.
For Information please visit the DACA website: https://dorsetartsandcrafts.org/
Purbeck u3a Writing Competition 2022
The winners and second- placed members of this year's Writing Competition are announced. Click on each entry to read in full.
FICTION CATEGORY
1. THE SCARIEST MOMENT – MONIKA BREWSTER click here
2 . WIND OVER TIDE – RICHARD COTTRELL click here
MEMOIR CATEGORY
1. BREAK TIME – NANCY LEE (pen name) click here
2. AN UNEXPLAINED MEETING – ALAN TREVARTON click here
POETRY COMPETITION 1. LADY'S WALK – TRICIA STEPHENS click here
2. DORSET MORNING - MARI LARTHE click here
PURBECK PRIZE
A RULE WE HAVE – RICHARD JACOBS click here
Congratulations to the prize winners, and thanks to the judges and all those members who supported the competition this year.
Changes to the Highway Code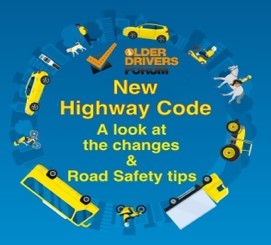 Have you heard about the new changes to the Highway Code? The new code will be available to buy in April.
The Older Person"s Forum is providing free webinars to take you through the changes showing excellent video clips.
Should you wish to follow this site for details of new events and information there is a space to signup for email updates on the righthand side of the Home Page.
A small sample of information on their website:
Quick Guide leaflet for Dorset schemes
Road Safety web site
Relevant pathways for assessments if you are a medical practitioner
'Cost Calculator' to estimate how much it costs to run your car and how much you would need to spend on public transport
If you don't have a medical condition which affects your driving then the forum recommend the following assessments: List of notifiable medical conditions https://www.gov.uk/health-conditions-and-driving
If you do have a medical condition that may affect your driving then see Wessex DriveAbility assessment
If you live in Hampshire, Isle of Wight, Dorset, Wiltshire or Berkshire then why not have a look at the 'Going Car Free' web site. You can additionally Contact them by: Tel: 02380 554100 E-Mail: hello@goingcarfree.com
Dorset Driver Gold is aimed at people aged 65 years and over who have an interest in updating their skills and knowledge, want help in familiarising themselves with a new vehicle or simply want to gain confidence.
The Institute of Advanced Motorists (IAM) Offer a number of courses to give assistance to the older driver, like the Mature Driver Review which is great in building confidence
The Royal Society for the Prevention of Accidents (RoSPA) Offer an Experienced Driver Assessment. This is a one-hour drive in your own car with a RoSPA Assessor

Gerry Griffin
Group Leader, Advanced Driving